Please check our Calendar of Events for scheduled tours.
Throughout the season, we host various workshops and seminars at the Gardens.
Adult offerings include hands-on workshops such as basket-making, gardening and floral photography.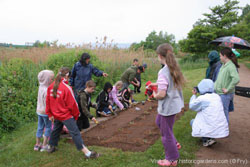 Workshops for Kidz - we also offer a number of workshops designed for kids, such as Wacky Container Planting and Butterfly Gardening.
For information on upcoming events, please visit our
Calendar of Events
.