The Gardens often host special events and activities throughout the season.
Some are social, such as our Wine evenings (Wine & Roses, Wine & Lilies), and others are a mix of social and educational, like our annual House & Garden Tour.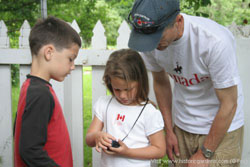 The Gardens are a great place for kids - they enjoy the simple things in nature. But to keep your youngsters engaged, we provide a "bouquet of opportunities". Everyday activities like our Scavenger Hunts give your kids and extra project to do as you enjoy the Gardens, and our organized activities (GPS Quests, Junior Shutterbugs) provide a learning opportunity for kids or families.
For information on upcoming events, please visit our
Calendar of Events