Explore the Cradle of Acadie
August 1, 2014 - August 15, 2014
The spotlight will be on the Acadian House, and 17th Century life in the Annapolis Royal area, once the Cradle of Acadie.
Acadian Kitchen Party
August 5, 2014, 5pm-8pm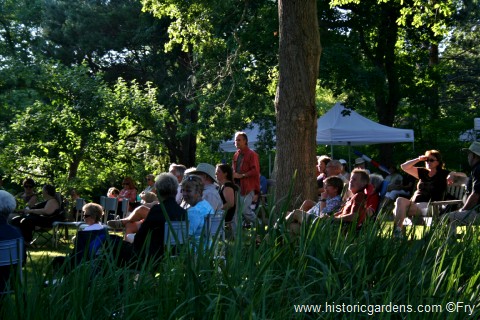 Yes, it's back!

Plan to visit the Historic Gardens in Annapolis Royal on Tuesday, August 5, 2014, 5-8pm for the annual Acadian Kitchen Party. In two years, this "new" annual event has become a summer highlight!

Experience a unique evening in the mid-summer Gardens surrounded by the dynamic sound of an Acadian kitchen band! It will be a toe-tapping time – you won't be able to sit still! Enjoy nibbles with an Acadian flair and Nova Scotia wine, beer, and cider. Be sure to bring along a lawn chair or blanket so you can relax, settle in and enjoy the evening!

Children are welcome to enjoy this licensed event with their families! Please note: Minors under age 19 must be accompanied by a parent or guardian.

Tickets $25. Kids 7-12 Half Price. Under 6 - free.

The Acadian Kitchen Party is a wonderful cultural event that can be enjoyed by the whole family! Be sure to experience it for yourself!
More info
A Celebration of Art
August 16, 2014 - August 24, 2014
Join us for art themed exhibits and activities in the Gardens, with a natural emphasis on art in the garden and botanical art.
Annapolis Royal Photo Contest & Exhibit
August 16, 2014 - September 1, 2014
A wonderful look at the Historic Gardens and other highlights in Annapolis Royal through the eyes of amateur photographers. Submission Deadline: August 8.
Celebrating Paint the Town
August 16, 2014 - August 17, 2014
Watch artists at work painting their favourite scenes - a wonderful opportunity to view the Gardens through the eyes of an artist! Head down to the Legion to have a look at all the day's artwork and to buy a treasure or two in support of the Arts Council.
Celebrating Wharf Rat Rally
August 29, 2014 - September 1, 2014
Come to the Gardens for some very special themed events in celebration of this great motorcycle rally!
GHOST TOWN
October 17, 2014 - October 31, 2014
Annapolis Royal will become a Ghost Town in October. Be sure to visit… If you dare!
More info
Ghostly Gardens... After Dark!
October 17, 2014 - October 31, 2014
The Historic Gardens will take on an amazing transformation in late October in celebration of GHOST TOWN. the Ghostly Gardens by daylight, or better yet, join us AFTER DARK. For six special evenings (Fri-Sun), you are invited to experience these Ghostly Gardens After Dark. Enter the Witch's Lair to see how she lives (she loves visitors…), gather around the Bonfire and share Ghost Stories, grab a lantern and check out the awesome creatures inhabiting the Gardens, and become a Hallowe'en archaeologist in our Bone Dig (dem bones, dem bones). Lots of fun for the whole family!
More info
North American Conkers Championship
October 18, 2014
Conkers is a centuries old British Game using the hard brown seed of the horse chestnut tree threaded on a length of string. Join us for the 3rd Annual North American Conker Championship – guaranteed to be loads of fun!
More info