The Historic Gardens are a wonderful and rewarding place to volunteer or work!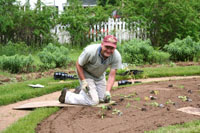 We always have opportunities for volunteers to participate in the Gardens. For more information, please visit
Volunteering in the Gardens
.
A summer job at the Gardens is both fun and rewarding! If you are interested in learning more about employment opportunities in the Gardens, please
email us!
.