We would be pleased to host your group tour at the Historic Gardens. Your options range from a self-guided tour, to a tour with one of our knowledgeable Volunteer Guides, to a custom experience at the Gardens arranged specifically for your group.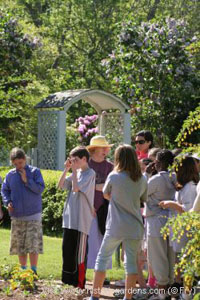 Visiting Time:
We recommend about 45 minutes to an hour for your visit to the Gardens.
Facilities:
Multiple washroom facilities (quad)
Drinking fountain
Wheelchair Accessible
US currency accepted at a reasonable exchange rate
Group Admission Fee:
$7.50 per person
Comp Policy:
Two (driver and escort)
Comfirmation:
If you have booked a guided tour, your escort is required to call and confirm 24 hours in advance of your visit or guide services may be cancelled. Late arrivals will forfeit their guide services.
Guides:
Groups have the option of visiting on a self-guided tour basis, where the passengers are given a map and may wander the Gardens according to their individual interests, or pre-booking a guided tour during which the group follows a pre-planned route covering the majority of the Gardens. Because we operate with volunteer guides, we cannot guarantee the availability of a guide if requested, although there is seldom any problem.
Payment:
We accept cash, company cheque, VISA, Mastercard and Interac/Debit.
Parking:
Buses may park either along the circular Entrance drive or in the overflow area across the street. Have the driver check at the main Entrance for specific directions.
Lunch Service:
The Elm Tree Cafe
welcomes small tour groups with advance reservations.
Book your group visit now!