Historic Gardens - Our Beginnings...
In the mid 1970's the Town of Annapolis Royal and its citizens met to discuss ways of revitalizing the town through conservation and promotion of its heritage. A consulting firm was hired to study resources, a possible site was chosen, and county and provincial experts were soon in agreement that the location was ideal for a display garden.
Committees met, Government departments and other experts offered advice, work began, and the Annapolis Royal Historic Gardens opened in the summer of 1981.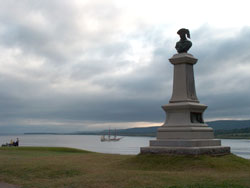 The site of Annapolis Royal has been associated with gardens since the 17th century. In 1605 the Habitation of Port Royal was built under the leadership of the Sieur de Mons who, on condition that he establish settlements and cultivate the land, was granted fishing and fur trading rights over a vast area. Initally this included Nova Scotia, New Brunswick and Prince Edward Island, and was referred to as l'Acadie. Writing about the settlement, cartographer Samuel Champlain records:
"The whole country is filled with thick forests, except at a point a league and a half up the river where there are some oaks, although scattering, and many wild vines, which one could easily remove and put the soil under cultivation".
Later he writes that he ordered
"wheat, rye, hemp and several other kinds of seeds to be sown in order to ascertain how they would flourish".
One historian notes,
"This was the identical spot on which the Town of Annapolis Royal now stands. That historic place first came into prominence as a miniature experimental farm."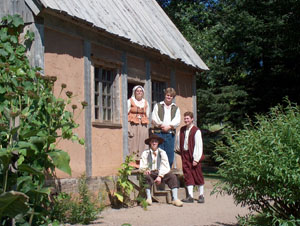 The French settlers - Acadians - became highly proficient builders of dykes and aboiteaux (sluices) to drain the immensely fertile salt marshes. The Acadians chose to settle these reclaimed lowlands, rather than clear the higher woodland. The new settlement at Port Royal established a strong and enduring bond with the Mi'kmaq people, who not only supplied the Acadians with essential furs, but more importantly, aided them in surviving and adapting to life in the New World.
Port Royal faced many difficulties and reversals as France and England struggled for control of the whole region. The area changed hands several times until, in 1710, Port Royal fell to the British for the last time and was renamed Annapolis Royal in honour of Queen Anne.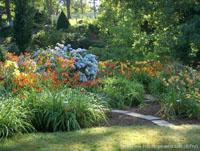 The Historic Gardens, designed to portray the area's rich heritage, opened on August 15, 1981, and very quickly became one of the premiere attractions in Nova Scotia.
A detailed history, chronicling "The First 25 Years", was published several years ago as a Silver Anniversary project. Researched and written by Ian Davidson, long time Board member, this history describes very well the successes and challenges encountered in the first quarter century. This publication is available through
the Gardens Shop.